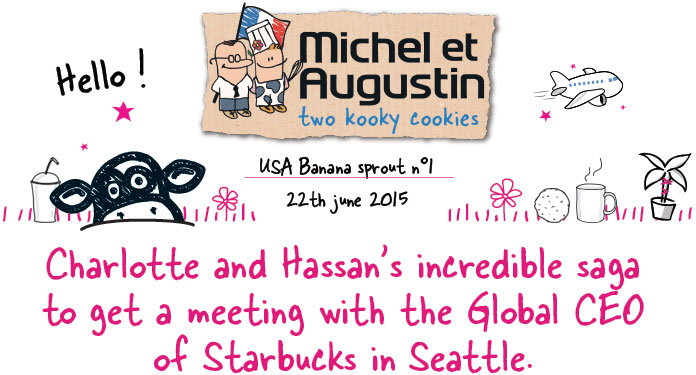 It all began Friday, June 12 at 5:53 pm…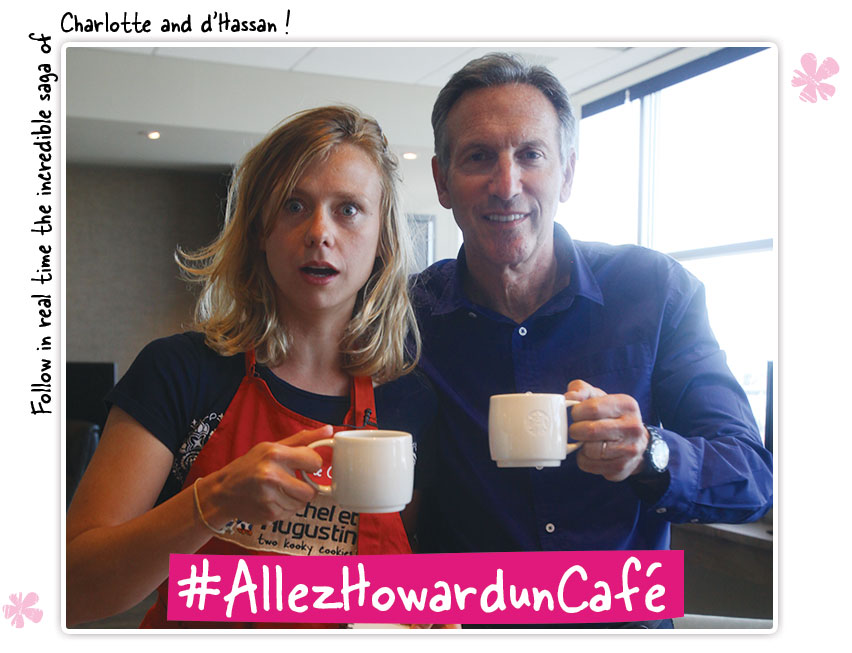 INCREDIBLE but true! Friday, Antoine, the Banana Farm Chief Officer in NYC gets a phone call from…
the Global Assistant of the GLOBAL CEO of Starbucks, Howard Schultz.
What do they want? Samples of our incredible creations for their executive committee MONDAY MORNING in Seattle.
FedEx? Mailman? No way! We're bringing them ourselves ;)

Our goal?
To get them to taste our cookies right before our eyes.
And to drink a coffee with Howard. So with no further ado,
we hop on a plane at 1:30 pm on Saturday June 13, flight AF 3622.
Destination SEATTLE, Starbucks GLOBAL headquarters.

Our mission?
To spread French-pastry savoir-faire to the USA ;) And to show the entire world the "#PowerFrance
Click HERE to understand it ALL and experience the epic saga in real time in 1:04 min ;)



The FULL schedule of our crazy day, Monday, June 22, 2015 ;)
To carry out the 1st life-changing delivery to 25 Starbucks in the heart of Manhattan,
via a special kookie-club truck, #AllezHowardunCafé, at 10 am and not a second late.



Let's meet from 12:01 pm extra sharp to 14:03 pm!
The REAL Michel will be waiting for ALL of you at the Starbucks at the Empire State Bulding.


Whats on the agenda?

- Chit-chat with Charlotte and Hassan about their incredible saga From Paris to Seattle to NYC!
- Dark chocolate and lemon meringue cookie square tasting while sipping a coffee or frappucino.
- Big-screen viewing of EVERY episode of our incredible saga.
- Photoshoot with Michel AND/OR Charlotte and Hassan who experienced the Howard saga first hand.
- Live broadcast on Periscope of our crazy day.
- Lift-off: Starbucks Empire State Bulding!



And in the afternoon?

The kookie-club will continue their delivery tour ALL day in NYC!

Discover the incredible itinerary of our special kookie-club, #AllezHowardunCafé HERE

Should you come face to cow with our truck, give us a wave or send us a photo!
Sneak-peek in NYC, next week Paris, third stop London. The adventure continues ;)

THANK YOU all! It's all because of YOU.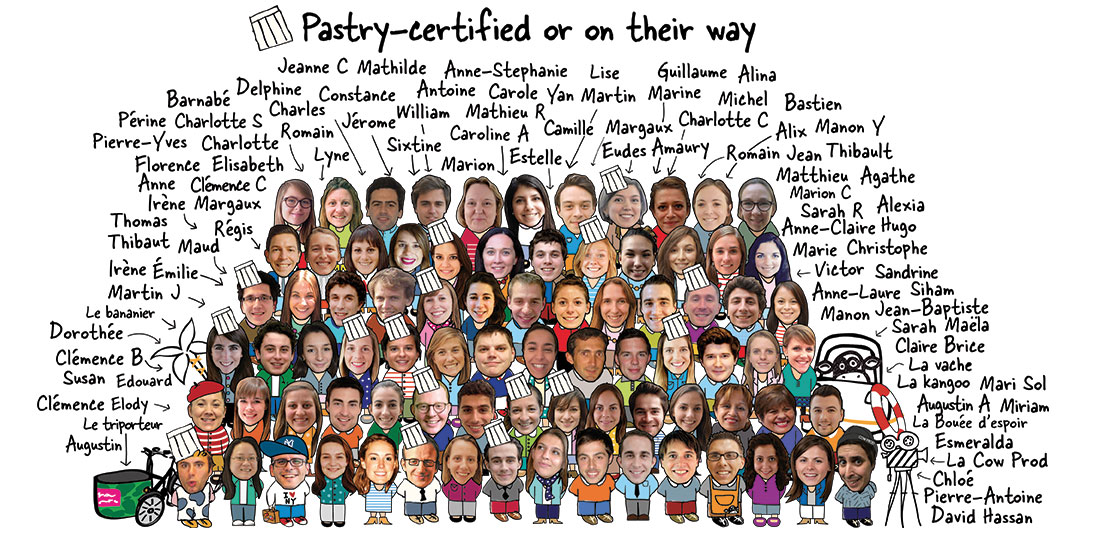 Michel et Augustin
Banana Farm New-York City - One Pierrepont Plaza - 300 Cadman Plaza West - 12th Floor - Brooklyn, NY 11201

Banana Farm Paris - 151, rue de Billancourt - 92100 Boulogne-Billancourt tél : + 33 1 53 28 26 40 - fax : + 33 1 42 19 95 13

Banana Farm Lyon - 5 rue Belfort - 69004 Lyon Croix-Rousse tél : + 33 9 50 50 75 91

www.MichelEtAugustin.com

Never want to receive another banana sprout?
Drink a coffee 30,000 feet in the air or click HERE
{[Footer|1517]}